Payment information
Because of international commerce laws, and the paperwork to abide by those laws, we use FastSpring as a reseller. This means that all transactions made on our shop are processed by FastSpring. They are fully authorized by us to operate as a reseller.
If you want to learn more about a payment you made, such as a credit card charge, then you can always
contact
FastSpring for more information. For questions about our products, our shop, or refunds, you need will to
contact us
. You can also use
support
to get an immediate answer to almost everything.
All prices on the website include VAT when applicable. You will only be billed after you complete the order, so you are always aware of the total price.
At the end of your order you are notified that the charge will appear on your bill as a FastSpring specific code. You will also receive an email confirmation that contains this code.
Be aware that when you place your order you might also receive a
reminder email
to help you recognize the charge on your bank statements. The email clearly states that this is a reminder and
not a second charge,
so please read it carefully.
Receiving your order
You will receive a confirmation email with a download link to the installer (
1
) and a product key (
2
) after your payment has been processed. This product key is required to activate the product that you ordered.
Creating an account
To activate a product, you first need to add an account. Make sure that internet access is not blocked by a firewall because registration will fail without internet access. If you already created an account then you can sign in (
1
) and continue with
activating your product key
.
The internet access indicator (

4

) can be used to determine whether the application has internet access or not.
If you don't have an account yet, you can easily create a new account with (
1
) and the
create a new account
link. If you have a referral code, you can add it using the
add a referral code
(
2
) link. After you've entered the required information you can register an account (
3
).
You will now be prompted to verify your account with a verification code. An email with the verification code (
5
) is sent to your email address after you registered an account.
You can use this verification code in the verification dialog (
6
), where you can now verify your account (
7
).
Activating your product key
Make sure you're signed in to the application ( 1 ) and use activate product ( 2 ).





In the activation dialog you can enter the product key ( 3 ) that you received with your order. You can now activate ( 4 ) your product.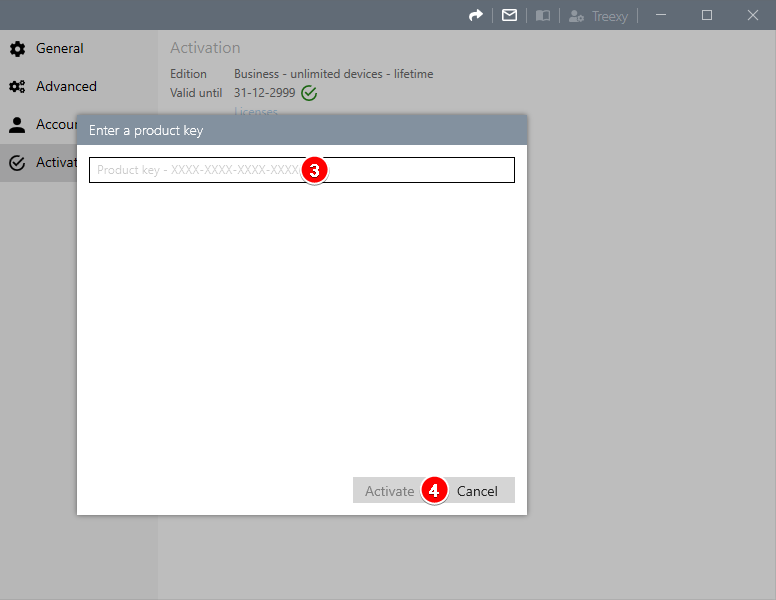 That's all, you have now succesfully activated your product.
You can only activate a product key once. In case you reinstall your operating system, or when you bought a new computer, you just need to sign in to your account again. You can learn more about the terms in the FAQ.