Disable automatic driver updates in Windows 10
October 13, 2015
One of the most frequently heard complaints about Microsoft's Windows 10 is the forced download and installation of driver updates through Windows Update. In previous versions of Windows you were presented with a list of (driver) updates and could uncheck an update if you wanted to. While this change might seem useful for users that never update their drivers, there are several reasons why you do not want Microsoft to control the drivers that are installed on your computer, such as:
You want to use an older driver because it works better.
You have software installed that relies on another driver.
You encountered system problems caused by the driver from Windows Update.
You have a newer driver than the driver provided through Windows Update.
Because all driver updates are enforced by Microsoft, you cannot roll back to a previous version as Windows Update will download and install the driver again.
With Driver Fusion you can disable automatic and mandatory driver updates in Windows 10, but this feature also works for Windows Vista, 7, 8 and 8.1. Once you have opened Driver Fusion, go to the settings 1 and select the advanced settings 2. You can then change how Windows driver updates are installed by changing the setting in 3 to Never install driver software from Windows Update. After you have changed this setting you will have to restart your computer for the changes to take effect.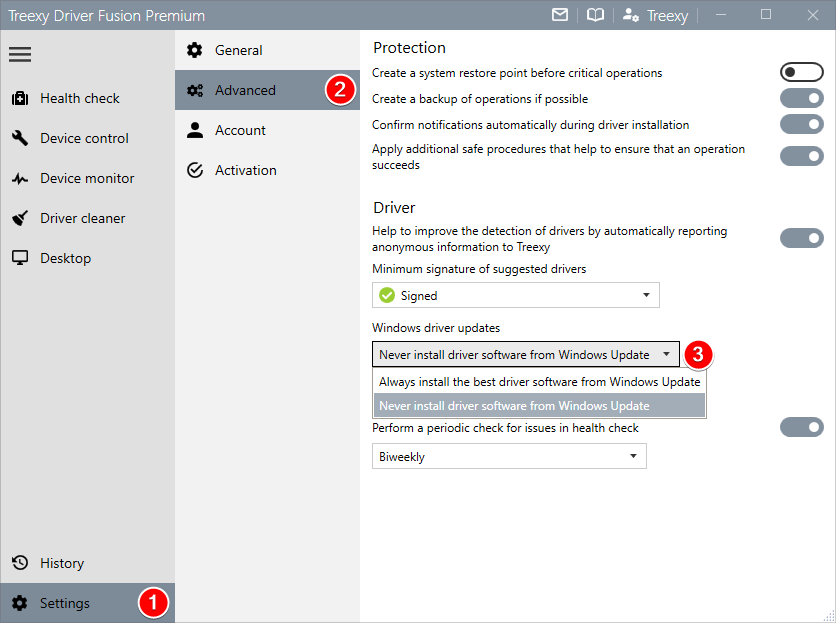 Changing how Windows driver updates are installed.
Unfortunately, most driver updates that are already discovered by Windows Update can still be installed after you've made this change. This does not happen on every computer and you only need to continue with this guide when a driver is still being installed without your consent. In order to prevent such drivers from being installed you can download the Show or hide updates troubleshooter package from Microsoft.

Using the show or hide updates troubleshooter from Microsoft.

Once you have opened the troubleshooter, select Advanced 1, make sure Apply repairs automatically is checked 2 and select Next. The next screen will ask you if you want to Hide updates or Show hidden updates. You should select the Hide updates 3, unless you want to undo an update that you have hidden. The troubleshooter will now scan your computer for available updates and show you a list of updates that can be hidden  4. Make sure that you only select driver updates and ignore all regular Windows updates. Even though the troubleshooter can hide these updates as well, we do not recommend this as regular updates often contain software and security fixes. Once you have selected the driver updates that you want to hide, click on Next and then Close. Even though it is not necessary for most computers, we recommend you to restart your computer.

In all cases: driver updates that are added to Windows Update will be automatically hidden through the change you made in Driver Fusion.
You can use Driver Fusion Premium to automatically update the drivers you want, we always give you full control.